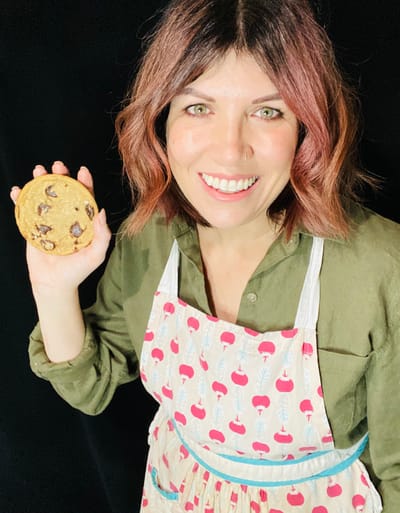 Sugar+Fire Baking Company is a licensed home bakery in the Philadelphia suburbs owned and operated by Lisa Gaub.
I'm a Licensed Professional Counselor who turned to baking after being laid off due to the pandemic. Baking has always been my self-care. MY therapy. So with nothing but time on my hands I started baking for friends and family. Word of my cookies got around and before I knew it, my hobby turned into a business that continues to grow. I am a nearly lifelong vegetarian who decided to switch to a plant based diet a few years ago and haven't looked back. My love for really delicious and interesting food fuels my desire for unique flavors and creating cookies you don't even "notice" are vegan. Some of my biggest customers aren't vegan--they just love really good cookies. Come join me on this cookie adventure!
Lisa lives in Narberth with her husband, Andrew, and their two daughters. They are all willing taste testers. They also love to travel so you may occasionally find the online store closed while they are out making lifelong memories!